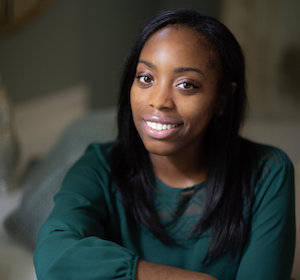 Keya Middleton
If I had to choose two words that describe what motivates me personally and professionally, they would be compassion and love. I aspire to create a safe space for us to work through and gain support in the unavoidable transitions in life.
We all face physical, emotional, mental, social and spiritual changes. These transitions can be challenging and our experiences may result in feelings of hopelessness, anger, sadness, fear, anxiety or other unwanted emotions.
My goal as a therapist is to help you through the anticipated or unexpected events life brings. I hope to support you in your healing process and help you make meaning of it all.
I provide individual and group telehealth therapy for adults. I utilize client-centered, trauma informed, evidence and strength-based practices, including Cognitive Behavioral Therapy (CBT), Psychoeducation, Dance/ Movement Therapy, Motivational Interviewing and Mindfulness. 
My experience includes, but is not limited to, treating the following issues:
Anxiety

Depression

Trauma & PTSD

Crisis/ Stress/ Challenging life transitions 

Relational problems

Domestic Violence & Intimate Partner Violence

Grief & Loss
Credentials:
Licensed Professional Counselor (LPC) in Pennsylvania

Domestic Violence Advocate

Registered-Dance/Movement Therapist

Master of Arts (MA) – Drexel University College of Nursing and Health Professions, Counseling and Dance/ Movement Therapy
Active Professional Associations and Affiliations:
American Psychological Association, Professional Affiliate- Society for General Psychology

Professional Member: American Dance Therapy Association
Schedule an appointment with Keya online or call 267-861-3685, Option 1
Meet Some of Our Other Therapists & Psychologists